Galaxy Council
News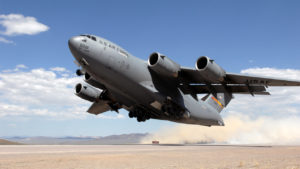 July 10, 2018
The C-17 Globemaster III is the newest, most flexible cargo aircraft to enter the airlift force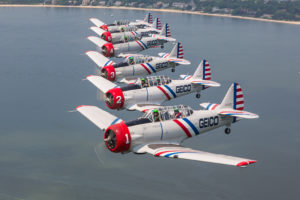 October 24, 2017
The GEICO Skytypers fly the SNJ-2 version of the aircraft. This model has an enlarged 180 gallon fuel tank allowing the aircraft to operate for more than four hours.
2018 Air & Space Show Breakfast
The Galaxy Community Council invites you to attend the:
GREAT NEW ENGLAND AIR & SPACE SHOW KICK-OFF BREAKFAST
2018
Friday, July
13
Westover Air Reserve Base, 2255 Westover Road, Chicopee
Gate opens at 6:30am.  Breakfast starts at 7:30am
All breakfast attendees must depart the base no later than 12:00 noon.
Ticket Sales end July 6th 12:00pm
Tell Me About it:
You will dine with local Air Force & Civilian dignitaries.  Immediately following the traditional breakfast and recognition ceremonies, the hangar doors open to a preview of the weekend's performances (subject to flying restrictions and weather.)   All breakfast attendees must depart the base no later than 12:00 noon.
Cost:     Tickets are $35 each (plus $1.50 processing fee) and must be purchased in advance to ensure base access. You will be prompted to enter your name, address, phone number, email address and credit card for payment.  
Please note the terms and conditions:     Gates open at 6:30 am.  Anyone arriving before that time will be turned away.  ALL guests entering the base must have a valid picture id when approaching the gate (not just the vehicle driver, ALL guests).  All vehicles and persons are subject to search.  There will be a 100% check of handbags when entering the breakfast.  Smoking is allowed in designated areas only.   Holder of this ticket voluntary assumes all risks and danger incidental to the event for which this ticket is used whether occurring prior to, during or after same, and agrees that the organization, agents, participants and players are not responsible or liable for any injuries resulting from such causes. Holder grants permission to organization sponsoring the event for which this ticket is issued to utilize the holder's image or likeness in connection with any video or other transmission or reproduction of the event for which this ticket relates.  Performing acts following the breakfast are dependent on the weather. All purchases are final.
Any questions may be directed to Air Show Breakfast Committee at [email protected]
Breakfast Guest Speaker  
NASA ASTRONAUT   CATHERINE "CADY" COLEMAN, PH.D. (COLONEL, USAF, RET.)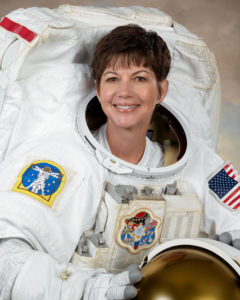 PERSONAL DATA:  Born December 14, 1960, in Charleston, South Carolina. Married to glass artist Josh Simpson.  She enjoys flying, scuba diving, sports and music.  As an undergraduate, she competed in intercollegiate athletics on MIT's crew team.   Her mother, Ann L. Doty, resides in Dayton, Ohio.  Her father's family resides in Vancouver, Washington.
EDUCATION: Graduated from W.T. Woodson High School, Fairfax, Virginia, in 1978; received a bachelor of science degree in chemistry from the Massachusetts Institute of Technology in 1983 and a doctorate in polymer science and engineering from the University of Massachusetts in 1991.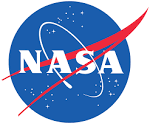 NASA EXPERIENCE: Coleman was selected by NASA in March 1992 and reported to the Johnson Space Center in August 1992. Initially assigned to the Astronaut Office Mission Support Branch and detailed to flight software verification in the Shuttle Avionics Integration Laboratory, Coleman subsequently served as the special assistant to the Center Director, Johnson Space Center. She served in the Astronaut Office Payloads and Habitability Branch, working with experiment designers to ensure tha t payloads can be operated successfully in the microgravity environment of low Earth orb As the lead astronaut for long-term habitability issues, she led the effort to label the Russian segments of the International Space Station in English and also tracked issues, such as acoustics and living accommodations aboard the station. She served as a CAPCOM in mission control for both the space shuttle and space station for a number of years. She represented the astronaut office on the Tile Repair Team for NASA's Return to Flight after the Columbia accident. Coleman also served as the Chief of Robotics for the Astronaut Office, tasked with overseeing astronaut robotics training and the integration of crew interfaces into new robotics systems. Coleman led supply ship operations for the Astronaut Office and pioneered efforts to integrate supply operations across NASA and the international and commercial and partners, including Space X, Orbital ATK. As her final assignment at NASA, Coleman led open-innovation and public-private partnership efforts for the Office of the Chief Technologist at NASA Headquarters. Read More…